Here is an insight into my brain: Whenever a friend is expecting a new baby, I play this game in which I try to situate this baby amongst his or her siblings as a literary sibling set. (I recognize this is not normal.) Pippin's godparents, for instance, were expecting their fourth and so far had a Narnia Pevensie family lineup: boy, girl, boy. When they found out they were having another girl, they just went ahead and named her after the fourth kid in the Pevensie family, and that's how that sweet Lucy got her name.
Here are the sibling sets I can think of off the top of my head and reference most often, with their attributes in personality test/horoscope style. Still, I can't think of one for my particular set of monkeys (boy, girl, girl). Which ones am I missing?
Only child: Sara Crewe. Lonely but with a rich inner life and indomitable spirit. Also, a lot of orphans — Anne and Harry and the rest, but I fortunately don't know any orphans in real life.
Two girls: The Quimbys (Ramona and Beezus from the Ramona books): exasperated and emotional; and the Dashwoods (Elinor and Marianne from Sense and Sensibility): mutually perplexing but warm.
Three (boy, girl, boy): The Drews (Simon, Jane, Barney from Over Sea, Under Stone): spirited and brave.
Three (girl, boy, girl): Waterburys (Roberta called Bobbie, Peter, Phyllis from The Railway Children): thoughtful and observant.
Three girls: the Fossils (Pauline, Petra, Polly from Ballet Shoes): driven and faithful.
Four girls: The Marches (Meg, Jo, Beth, Amy from Little Women): ambitious and vivid or the Penderwicks 1.0 (Rosalind, Skye, Jane, Batty from The Penderwicks): self-aware and feisty.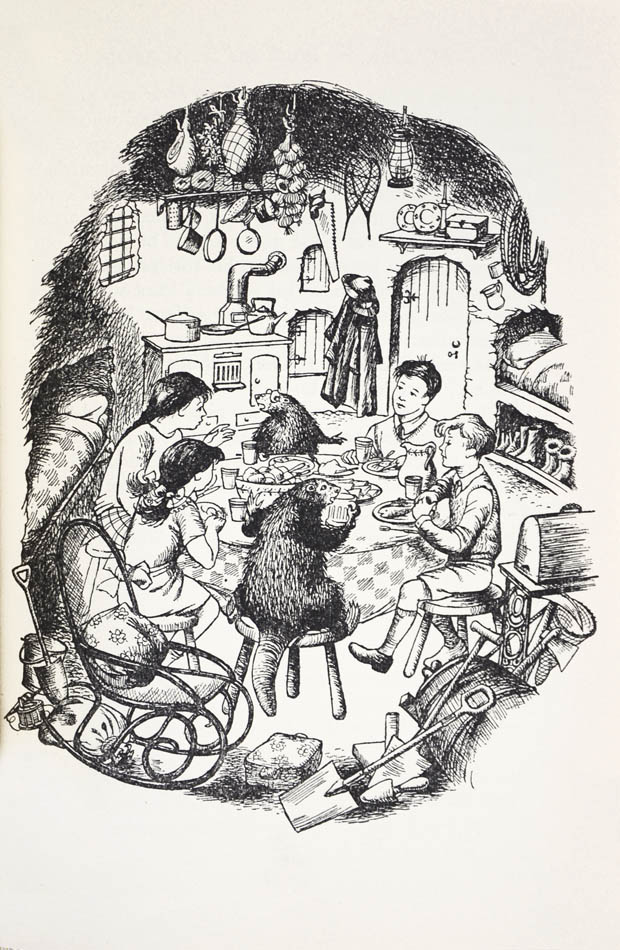 Four (boy, girl, boy, girl): The Pevensies (Peter, Susan, Edmund, Lucy from The Chronicles of Narnia): squabbling but courageous.
Four (boy, girl, girl, boy): The Aldens (Henry, Jessie, Violet, Benny from The Boxcar Children): practical and resourceful.
Four (girl, boy, boy, boy): The Murrays (Meg, Sandy & Dennis, Charles Wallace from A Wrinkle in Time): brilliant and empathic.
Five(boy, girl, girl, boy, girl): The Walkers (John, Susan, Titty, Roger and Vicky, sort of; from Swallows and Amazons): imaginative and responsible.
Five girls: The Bennets (Jane, Elizabeth, Mary, Katherine, Lydia from Pride and Prejudice): mismatched and hilarious.
Seven (6 boys then a girl): The Weasleys (Bill, Charlie, Percy, Fred & George, Ron, Ginny from Harry Potter): scrappy and lively.
Blended family: The Penderwicks 2.0 (Rosalind, Skye, Jane, Batty, Ben, Lydia): multifaceted and merry.
In what kind of family did you grow up? (I'm a Dashwood sister myself.) What kind of family do you have now?